How can a Vax Air Purifier reduce indoor air pollution?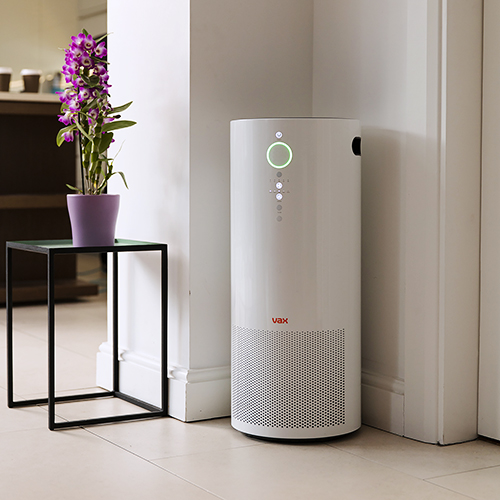 What causes air pollution?
Air Pollution occurs when gases, dust particles, fumes, smoke, odour or airborne allergens and bacteria are introduced into the atmosphere in a way that makes it harmful to humans, animals and plants. This is because the air becomes dirty, contaminated or unclean.
Air pollution can result from both human and natural actions. These include emissions from industries and manufacturing activities, emissions from automobile engines, fumes from a car exhaust, household cleaning products, all of which are harmful to breathe in.
However, did you know that indoor air can be 10 times more polluted than outdoor air? Not only do we spend considerably more time indoors than out, but the concentration of pollutants inside buildings are often much greater than those found outdoors because of the presence of internal sources*.
Some sources of indoor air pollution according to The Royal College of Physicians:
Cut flowers and potted plants
Air fresheners
Candles, joss sticks and other materials we burn
Smoke from open fires
Cooking
Dust mites
Mould and mildew in poorly ventilated rooms
The effects of air pollution
Air pollutants can be very harmful to your health. The level of effect usually depends on the length of time and exposure, as well as the types of chemicals you're exposed to. The short-term effects include irritation to the eyes, nose and throat. Others include headaches, nausea, and allergic reactions. Short-term air pollution can also aggravate the medical conditions of individuals with asthma and emphysema. Continual exposure affects the lungs of children and may aggravate or complicate medical conditions in the elderly.
How to reduce air pollution?
We spend so much time and money cleaning household surfaces and filtering drinking water yet a large percentage of us don't do anything about cleaning and filtering the air we breathe.
Air purifiers could be the answer to a lot of common problems, especially with air pollution rising in the UK*. They can help remove dust, allergens, mould spores, bacteria, viruses and smoke, improving your air quality in a highly polluted environment. Using an air purifier can reduce your reaction to pollen and sneezing- helping you breathe and sleep better.
Air purifiers can be highly beneficial in rural populations as allergens including pollen could be significantly reduced, as well as unpleasant pet odours.
You don't have to suffer from health issues or asthma to own an air purifier. They can benefit all types of living environments and people. In fact, everyone wants one but they just don't know it yet.
Shockingly, over the counter allergy remedies is worth £117 million in the UK**. Therefore, owning an air purifier can certainly save you money in the long term and you'll notice the benefits almost immediately, such as the reduction of air pollution within your home.
Why Vax Air Purifiers?
Vax are the UK's number one floor care brand. We're experts in floor, carpet, around the home and outdoor cleaning and now we want to ensure the air in your home is as clean as its surroundings and free from pollution. Vax Air Purifiers are the most effective way to clean the air in your home. Not to mention, all our Air Purifiers have been awarded the British Allergy Seal of Approval.
We recommend the Vax Pure Air 200 for smaller rooms, or the Vax Pure Air 300 for larger spaces.
*According to a report by The Royal College of Physicians 
** According to a report by Mintel