How to banish Halloween mess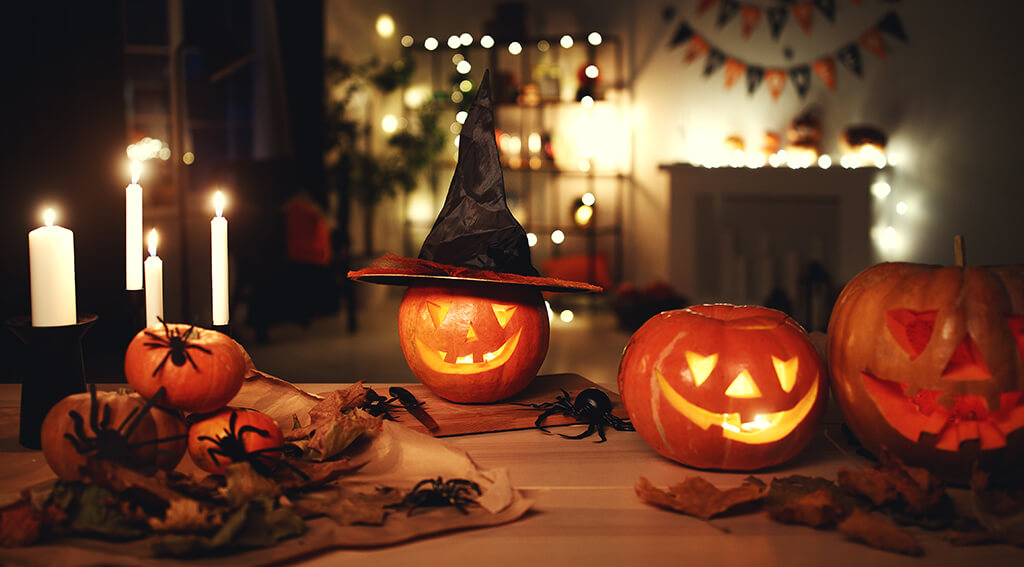 Spooky costumes, pumpkin carving and trick or treating are just some of the things that make up Halloween! But nothing is scarier than Halloween mischief, such as sticky sweets, face paint, chocolate and pumpkin guts spread all over your home. Do not fear, here at Vax we have put together some tricks to help you banish the mess.
Petrifying pumpkin stains

Pumpkin carving is a must when it comes to Halloween as it's a popular activity that can be enjoyed by all the family. But we all know how messy this activity can be, pumpkin entrails are bound to end up on the carpet and chairs leaving them stained.
To help you remove pumpkin stains on your carpet and chair upholstery try using a Vax spot cleaner. With the Vax ONEPWR SpotlessGo Cordless Spot Washer you'll always be ready to deal with unexpected stains quickly and easily. Plus, combined with Vax ONEPWR multi-floor solution, it kills over 99%* of bacteria at the same time. For any plastic parts of the chair like arms and legs, give it a quick wipe down, and don't forget to clean the feet so pumpkin guts don't get ground into the floor.
Face paint stains
With face paint being an essential to many Halloween costumes it always finds a way on to the carpet. To help remove face paint stains on your carpet why not try a Vax spot cleaner? The Vax SpotWash Spot Cleaner effectively removes stains, by combining powerful suction and deep hygienic cleaning tools, with a specifically formulated cleaning solution designed to target stains. Plus, the slim design of SpotWash will comfortably fit on a step, and the 1.5m long hose allows you to easily clean further, so tackling face paint stains on carpeted stairs will be a breeze.
Horrifying mess on hard floors
After a long night of trick or treating your hard floor may be covered with half-eaten sweets, crushed chocolate and other sticky messes.
To help you eliminate the mess on your hard floor why not try a Vax hard floor cleaner? The Vax ONEPWR Glide Hard Floor Cleaner takes the effort out of cleaning hard floors because it vacuums, washes and dries your hard floors at the same time. Plus, no need to worry about germs as when using the Glide with Vax ONEPWR solution, it kills 99.9% of bacteria*.
Scary mess on carpets
Trick or treating is a great part of Halloween until food debris ends up on your carpet as kids are bound to drop a treat or two on the floor.
But don't worry, to help you remove the mess on your carpet why not try a cleaning bundle? The Vax ONEPWR Blade 4 Pet Dual Battery and SmartWash Bundle can assist you with the Halloween clean up as it comes with a Vax carpet cleaner and a Vax cordless vacuum.
The Vax ONEPWR Blade 4 Pet Dual Battery Cordless Vacuum Cleaner has a specially designed floorhead that allows you to move with ease on carpets to pick up all the unwanted food debris. Plus, it has an antimicrobial treatment on the brush bar which helps protect your bristles from bacteria and fungi by preventing their growth.
To help you remove the stains from treats left on your carpet try the new Vax Platinum SmartWash Carpet Cleaner. Our best ever carpet washer kills over 99% of bacteria** that can cause bad smells in your home. And with its patented SpinScrub hand tool and 2.5m long hose, you can tackle stains throughout the home, from carpet, upholstery and stairs.
* When used with ONEPWR Multi-Floor Solution.
**When used with Vax Platinum Antibacterial solution, use biocides safely, always read the label & product information before use.